Parents have a choice when it comes to which child care their little ones attend. Some of the selection criteria parents use include: location, curriculum, cost, teacher retention or open hours. One thing parents may overlook are the different options in enrichment programs a child care center offers.  Enrichment programs can help both parents and children feel comfortable in their child care experience.
The Margaux Early Childhood School at Temple Judea, located in Coral Gables and serving the nearby communities of Coconut Grove, Pinecrest and South Miami, offers numerous enrichment programs as part of their child care curriculum.
Here are some of the programs offered as part of the child care program serving South Miami and Pinecrest – yoga, nature explorers, Spanish, art, cooking, soccer stars, karate and ballet. A well-rounded program should include different experiences and recreational activities. We know karate is one child's idea of fun while a future scientist would be preferred nature explorers. Perhaps you'd like to expose your child to another language or increase their artistic talent.
Benefits of Child care Enrichment Programs at The Margaux Early Childhood School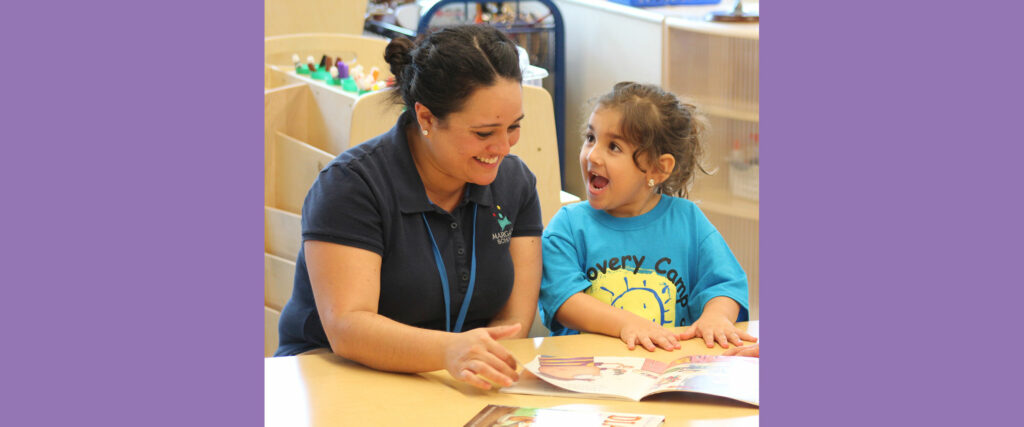 Here are some of the ways that enrichment programs enhance our child care program for families in Coconut Grove and Coral Gables.
Convenience. Not only is your time precious but your family's time together is precious too. Spend your weekends and evenings together, not running back and forth from one activity to another. Give your child the chance to grow and learn without having to pick enrichment programs around your schedule.
Focused learning. The Margaux Early Childhood School has a very balanced curriculum that includes many activities but some of our little learners have certain activities they would like to do more. Not everyone in our child care classes are interested in ballet or karate. Some children may want to spend more time on art than others. The enrichment programs give them the chance to do more of what they like.
Try new skills. There are so many specialized schools, sports clubs and learning programs available to children these days. Our enrichment programs give the chance for our students to try various activities that might become a focus for them in the future. With early encouragement in a fun atmosphere, they can develop the foundation for a lifetime of loving a sport or activity.
Stimulating and challenging programs. Certain children thrive with a stimulating and challenging environment that keeps them engaged. Concentrated activities can provide the added academic stimulation they may need, especially children who mature earlier than their counterparts or exhibit advanced intellect.
Enriching Early Child Care Experiences in a Warm, Supportive Environment.
Choosing a child care facility can be a tough decision for any family. We strive to give children the opportunity to explore, wonder, and discover their unique gifts in a positive, joyful setting. At The Margaux School, you will find teachers who respect and nurture children through enriching early childhood educational experiences in a warm, supportive child care environment. Contact us to learn more at 305-667-9470 or margauxschool@judeagables.org.