Preschool is a fun time for children, parents, and teachers. Children are finally excited to go to "school" like big kids and parents are ready to see their children grow and flourish! The teachers at Margaux Early Childhood School are ready to welcome your children into our preschool program and share the joy of learning.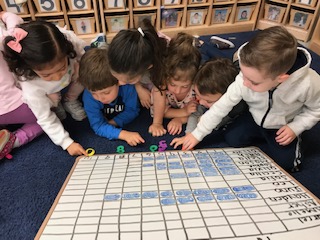 At some point, you're probably going to have questions about the activities during preschool. So many words can be used to describe them – fun, supportive, nurturing, developmentally appropriate and more! Your child will be having a great time in a loving atmosphere, and they'll be learning new skills, developing the basic blocks of learning and getting prepared for the educational journey ahead of them. Children have plenty of playtime for different centers and experiences around their preschool room to practice sharing and using their imagination. The activities your preschool teacher leads often incorporate many different skills at once.
Generally, the day starts with morning meeting. During this time the children are learning to
follow directions
transition from one activity to another
describe what they see (such as the weather or colors)
learn about number sequence
take turns talking and listening
discuss past or future events
All of this happens just at the beginning of the day! While it may seem like a lot, different parts are added when age-appropriate and children can go at their own speed. Plus, all of this is done in our calm and nurturing environment. Our teachers at the Margaux School have the experience to know when to add each part in response to the growing competency of the children.
Another small group or individual experience that is a preschool hallmark is art. Through this children will learn to express themselves, use different colors, feel textures and describe what they are making. Our teachers enjoy seeing each child's interpretation of what they are learning and the growth in development.
So much happens during preschool, it's hard to put it all in one blog post!
We invite you to come visit the Margaux Early Childhood School and learn about the preschool activities we have to offer our preschool families. Call us at 305-667-9470 to schedule your visit. We are proud to serve families throughout South Miami from Coconut Grove, Pinecrest, and our hometown of Coral Gables.