The Margaux School is a Coral Gables preschool that is conveniently located for families in South Miami, Pinecrest, and Coconut Grove, Florida. We know that it takes a lot of trust to send your child to a particular preschool. All the people here are well aware of this dynamic, and you can rest assured that you will feel very comfortable with our preschool just from an initial visit. In this blog post, we will look at three reasons why you can place your trust in the Margaux School.
1.) Temple Judea
We are part of the highly respected reform congregation Temple Judea, so we are a Jewish preschool. This spiritual underpinning is something that should instill confidence and trust as we emphasize values that are universal – taking care of others and acting with kindness. Because of this we have children of all different backgrounds attending our preschool.
2.) NAEYC Accreditation
The National Association for the Education of Young Children (NAEYC) is the largest and most highly respected organization in the world that works on behalf of young children. They offer an accreditation program, and it is extremely difficult to meet their very high standards.
NAEYC Accreditation required a quality improvement process along with a great deal of self-study. There are 10 program standards that must be met, and we excelled the test when NAEYC assessors inspected our facility and examined our practices. We are now fully accredited, and this is an achievement that we are quite proud of, because less than 10 percent of preschools, day care centers, and kindergartens have earned this distinction.
3.) Parent Testimonials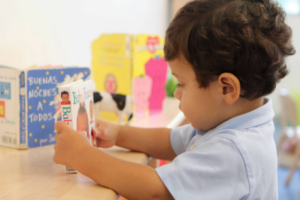 Another great way to gain an understanding of the trustworthiness of a preschool is to find out what parents of children who are attending the center have to say about it. It is very gratifying to hear positive feedback from satisfied members of the community, and we have created a testimonials page on this website to display their thoughts. If you take a moment to check it out, you will probably come away with the feeling that you can definitely place your trust in our preschool.
Let's Get Started!
We would be more than glad to show you around the preschool and answer any questions that you may have. To set up an appointment, give us a call at 305-667-9470.