Best Preschool in South Miami, FL
The Margaux School – Best Preschool in South Miami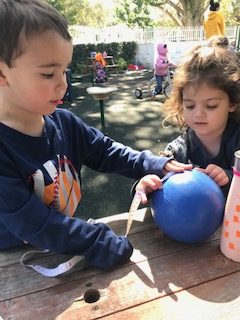 Do you live in South Miami and have a family with young children?  Would you like to place them in a creative, learning environment with the highest quality, award winning educators?  If so, The Margaux School is the best preschool choice for you.  Our pre school programs are the foremost in pre kindergarten education.  We believe in supporting, nurturing and engaging all children, so they can feel comfortable to learn and grow at their own pace.
South Miami Preschool Awarded Accreditation
We have the highest standards for our pre school programs and team of educators.
Our preschool has an accreditation from the National Association for the Education of Young Children (NAEYC).  This accreditation comes from a large nonprofit association that works on behalf of young children to ensure educators and education programs meet national standards of quality.  They represent early childhood education teachers, center directors, trainers, policy makers, and advocates.  Not only did our preschool receive this professional status, but one of our leaders was recognized by the education community.  Temple Judea's Director of Education, Beth Ellen Young, RJE, received this honor.  She was invited to join the prestigious Wexner Foundation's Field Fellowship leadership program. In this program, the members from across the nation work together to further develop their leadership skills and make lasting relationships to benefit their community.
Pre school and Other Classes for South Miami
The Margaux School offers more than just typical preschool classes.  Our many class offerings include preschool for two year olds, preschool for three year olds, VPK prekindergarten for four year olds, playgroups for toddlers, Spanish immersion programs, camp and enrichment programs.  Enrichment programs are where the child can explore his or her interests a bit further.  They include ballet, soccer, cooking, art, yoga, and environmental science.  Teachers of these programs are from the school faculty or are local specialists.  Your child will learn a new skill or advance his or her existing knowledge, all while having fun.
South Miami is Family Friendly
South Miami is a lush, green suburban area, and yet still close to bustling areas like The University of Miami, Dadeland Mall, and Sunset Place.  It is primarily residential and very family friendly with many outdoor recreation areas and beautiful parks.  Not only do the parks have great playgrounds for preschoolers and kids, but some parks also have fields for all types of sports.  Soccer is especially popular in South Miami, with games being played year-round.  Families enjoy the parks all year, in the warm, sunny weather South Miami provides.