Daycare, Preschool and VPK Services in Coral Gables, Florida
Conveniently located on Granada Boulevard, The Margaux Early Childhood School is pleased to provide the best in daycare, Voluntary Pre-Kindergarten (VPK), and preschool programs in Coral Gables.
Daycare in Coral Gables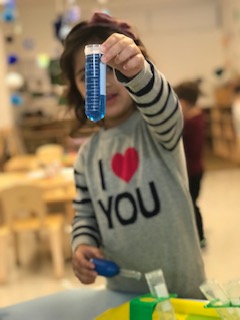 Coral Gables children as young as 18 to 24 months old can benefit from The Margaux School's daycare programs. Our well-trained staff of preschool teachers holds degrees in Child Development, Child Psychology, and Early Childhood Education. We are certified by the State of Florida and accredited by the National Association for the Education of Young Children (NAEYC).
The youngest children participate in Playgroup classes that help them grow both emotionally and socially, fostering interaction in a safe, comfortable, family-centered environment. Separate daycare classes for children two to four years of age focus on building language and thinking skills, while continuing to develop their social and emotional maturity.
As the children grow, so does the curriculum. The Three's daycare for three-to-four-year-olds at The Margaux School includes additional forms of expression, such as dance, drawing, play-acting (socio-dramatics), writing, and crafts such as sculpture and collage.
Best VPK
Studies have shown that children's brains undergo their most significant period of development by five years of age. Recognizing this, Florida instituted one of the first state-sponsored VPK programs in the country. The State of Florida offers free VPK to residents whose fourth or fifth birthdays fall before September 1st in the current school year.
Children who attend VPK tend to score better on school readiness tests. The VPK at The Margaux School helps develop social skills, language skills, and math- and reading-readiness in Coral Gables children four to five years of age. The Margaux School's VPK program gives children a foundation for performing well in Kindergarten and beyond.
The Preschool of Choice for Coral Gables Families
Enriched by an ancient and living spiritual tradition, The Margaux Early Childhood School at Temple Judea is a special place for Coral Gables children and their families. In a town renowned for its "City Beautiful" architecture and design aesthetic, The Margaux School brings the beauty of an open learning atmosphere where questions are encouraged, and curiosity is nurtured.
Coral Gables itself is filled with activities to enchant young minds. Take the kids to the Venetian Pool for a few laps in the midst of stone grottoes and Mediterranean fantasy, where swimming legends like Esther Williams and Johnny "Tarzan" Weissmuller once swam. Take in a show like Puss in Boots or Schoolhouse Rock LIVE! at the Actors' Playhouse at the Miracle Mile.
Introduce your child to the delicate, colorful grace of butterflies at the Fairchild Tropical Botanic Garden's "Wings of the Tropics" exhibit. Get your tricycle and bicycle wheels spinning at the Gables Bike Day, where children can enjoy festive activities such as face painting.
To stimulate your child's mind and spirit every day at preschool, come to The Margaux Early Childhood School in Coral Gables. Just call 305-667-9470 for more information. We can't wait to tell you more about our programs!