Child Care and Toddler Daycare in Coral Gables, FL
Coral Gables is a charming, peaceful community in South Florida.  Because of this, many people choose to live here with their families.  Child care is an important element of a neighborhood when you have young children and want nurturing, high quality day care.  If an accredited, top-notch daycare is what you had in mind, The Margaux School is the place for your little ones.
Coral Gables Day Care Improves a Child's Emotional Development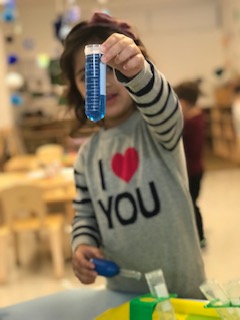 Studies show enrolling a toddler in day care is good for the child's social and emotional development.  It provides children with important social interactions with other classmates and teachers that can improve their behavior.  The interactions with trained staff and having to follow classroom rules in the preschool, gives kids a head start on what it will be like in grade school.  Going to a pre school provides a toddler with many social benefits not offered when staying home with a parent or family member, or with a babysitter.  The stimulus from playing with the other preschoolers in a supportive, educational environment gives kids a social and behavioral boost.
Toddler Daycare with Enrichment Programs in Coral Gables
It is easy for parents to look at child care as simply a place to send toddlers during the workday, but a good day care is so much more.  At the Margaux School, it's more than daycare– toddlers are stimulated by the enriching educational experiences and have fun during the play activities.  Children in our daycare can partake in enrichment programs where the child can explore his or her interests a bit further.  They include ballet, soccer, cooking, art, yoga, and environmental science.
Daycare in Coral Gables, a Beautiful City
Coral Gables has the nickname "The City Beautiful" and the city lives up to it.  The city is very elegant and pleasant, with tree lined streets and Mediterranean style homes in charming neighborhoods.  There are several historic attractions that were built in the 1920's, such as the Biltmore Hotel and the Venetian Pool.  Enjoy shopping and dining along the Miracle Mile, a main street in Coral Gables that also hosts street festivals and art fairs throughout the year.  There are many parks, and even an 83 acre botanical garden.  Stroll through Fairchild Tropical Botanic Garden for a wonderful day filled with nature.  There are always fun things to do with the family in Coral Gables.
Contact Us for Preschool in Coral Gables
If you are searching for accredited, nurturing, high quality child care, contact us.  To speak to one of our team members to learn more about the Margaux School, which is much more than just a Coral Gables pre school and toddler daycare center, you can reach us by phone at 305-667-9470.