Preschool, PreK in Coral Gables, FL
The Margaux School in Coral Gables Provides High Quality Preschool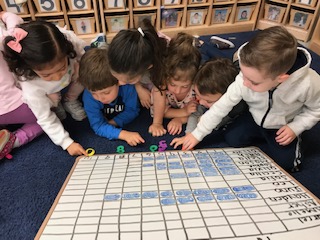 The Margaux School is an ideal choice for preschool if you live in Coral Gables and want a loving, enriching environment with high quality educators for your child.  Our educators do not just teach classes, they are caretakers, providing pre school children with the attention and care they need.
Our preK school educators will provide feedback to you about your child's progress.  Growth, development and behavior is observed and documented by the teachers throughout the year, so we can see how your child has flourished at our preschool.  There is an open line of communication between parents and educators so we can work together on the education and development of your preschooler.
Plus Extended Day Program PreK in Coral Gables
In addition to the preK program, The Margaux School offers an option for parents who need additional time for child care.  With our Extended Day Program, children can come to our preschool before the standard start time and stay longer, after the classes, for after care.  The earliest drop off time is 7:30 am with the end of the day pick up time at 6:00 pm.  We understand busy schedules and want to cater to the needs of your family.   We apply the same high standards we have for our preschool, to our extended day program.  The enriching, nurturing care continues, whether it is before, during or after class at our school.  There is no need for parents to pay beforehand for the extended day program, as it is added to your bill at the end of the month for the days used.
Preschool in Coral Gables and Other Family Activities
Coral Gables is a beautiful suburb near Miami.  It has charming neighborhoods but still has the hustle and bustle of a city with a business and shopping district.  There are several historic attractions, such as the Venetian Pool that was built in the 1920s, carved from a rock quarry.  The pool is still popular today with families, as it is not a typical swimming hole.  The expansive property has grottoes, towers and a bridge.  Coral Gables has great culture, including art museums and a botanic garden.  You can check out the art at the Lowe Art Museum, which is part of the University of Miami.  Take the family for a walk through Fairchild Tropical Botanic Garden to experience the butterfly exhibit, tree-lined lakes, and a tropical rainforest.  There are many activities for your family to enjoy in Coral Gables.
Call Us for PreK in Coral Gables
If your family is searching for a nurturing, high quality, accredited pre school in Coral Gables, contact us at The Margaux School.  To speak to one of our team members to learn more about our preschool, you can reach us by phone at 305-667-9470.
Learn More About…