Daycare, Preschool and VPK Services in South Miami
Right next door to South Miami in Coral Gables, The Margaux School at Temple Judea offers South Miami families exceptional daycare, preschool, and Voluntary Pre-Kindergarten (VPK) programs.
Best Daycare for South Miami Kids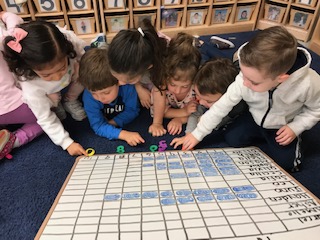 Five minutes' drive from the center of South Miami, The Margaux Early Childhood School has structured daycare programs for children from 18 months to about five years old. Children in the daycare programs at The Margaux School strengthen their vocabularies and social skills as they interact with teachers and other students. We also encourage them to communicate through dance, crafting, drawing, painting, singing, and other artistic means of expression.
The Margaux School is accredited by the National Association for the Education of Young Children (NAEYC), having undergone a rigorous evaluation and certification process. Very few early childhood education facilities hold this distinction, and The Margaux School is proud of the benefits that this level of excellence can bring to your child.
Preschool with a Difference
The Margaux Early Childhood School is part of Temple Judea, a Reform congregation established in 1948 and still a vibrant part of the Coral Gables community. Although we focus on teaching children fundamental reading- and math-readiness skills, as well as helping them grow their vocabularies, we believe that their vocabularies should include words of compassion and understanding.
At The Margaux School, we know it is never too early to instill children with a sense of the greater world around them. We are pleased to share our Judaic tradition with our school family, celebrating Shabbat and other holy days through songs, stories, and festive gatherings. We open our arms wide to respectfully embrace families of all traditions, origins, and beliefs.
VPK for South Miami Families
Children in South Miami who are eligible for free VPK can take advantage of this Florida state program at one of the best VPK programs in the state: The Margaux School. With years of experience in both public school systems and private Jewish schools, the teachers at The Margaux School are certified and trained in Early Childhood Education, as well as related fields like Child Psychology and Child Development. With small class sizes, a low student-to-teacher ratio, and an innovative VPK curriculum that teaches children both verbal and artistic forms of expression, The Margaux School is a top VPK choice for families in South Miami.
Families from the City of Pleasant Living have a lot to enjoy in their cozy town. The Children's Room at the South Miami Branch of the Miami-Dade Public Library boasts Family Storytime and other toddler-centric activities. The National Night Out at Palmer Park has plenty of family-friendly fun, including bouncy houses, a dunk tank, slides, and festival foods like cotton candy and snow cones. Palmer Park is also the site of the city's spectacular Fourth of July celebration, with a Children's Zone, fireworks, and other live entertainment.
Grab your bowling shoes for an evening at Splitsville on Sunset Drive. Go beyond this dimension at Biscayne Boulevard's Virtual Reality Park. And, for the best South Miami preschool, VPK, and daycare in any dimension, come to The Margaux Early Childhood School. Give us a call at 305-667-9470. We'd love to welcome you to the Margaux family!