Pre School and Day Care of Coral Gables, FL offering VPK, PreK, and Toddler Daycare in South Miami, Coconut Grove, Pinecrest and Coral Gables
We are glad you have found our Coral Gables child care center and VPK. The Margaux School at Temple Judea is a Jewish preschool, so we celebrate the Shabbat and all major religious holidays. Clearly, if you share the same faith, you will feel very comfortable sending your child to our daycare center. However, we welcome all local families with open arms, and the basic spiritual values that we put into practice are universal.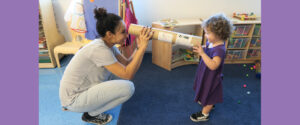 Daycare for South Miami and Nearby Areas
This Miami-Dade County city is an extraordinary place to call home on many different levels. Clearly, the weather in our part of the country is phenomenal all year around, so all of the fantastic outdoor activities can be enjoyed without interruption. Plus, there is always a youthful vibrancy in the air, because the city is the home of the University of Miami. Young people can get a world-class education without leaving town, and the sports teams are a major source of pride.
And speaking of education, it all starts with the strong underpinning that your child can obtain at The Margaux School. We are very discerning when we bring new people onto our faculty, so the teachers that are on our staff are the best of the best. If you take a moment to check out our faculty bio page, you will see that our teachers are highly educated, dedicated professionals. They are passionate about early childhood education, and it shows when you interact with them.
One of the great things about our Coral Gables day care center is the fact that you can get your child started early and never have to look for another center. We have a program that is designed for children that are between 18 and 24 months old. After that, we have two-year-old classes, three-year-old classes, and VPK and Pre-K programs for youngsters that are four years old and five years old. We also have extended day classes for students that are three years old and older that start at 7:30 a.m. and remain in session until 6 o'clock in the early evening.
Take Action Today!
If you are in Gables by the Sea, Gables Estates, City Center, or any other part of Coral Gables, Florida, a preschool you can trust is right in your backyard. Give us a call today at 305-667-9470 and we can set up a time for you to come visit our child care center.