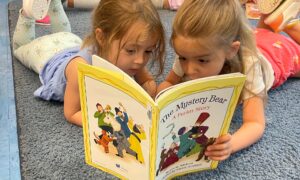 There are a number of different qualities that make The Margaux School the best preschool in Coral Gables, Florida. One fantastic advantage is the ideal central location. Our preschool can be easily reached from nearby cities like Coconut Grove, Pinecrest, and South Miami. Plus, we have an extended day program to accommodate any schedule. Children who are in any of our preschool programs or the VPK classes can arrive as early as 7:45 in the morning, and they can stay until 6:00 p.m.
Quality Educators for Coral Gables Children
In addition to the location and the wide window of child care that is offered, another quality that makes us the best preschool in the Coral Gables – South Miami area is the quality of our teachers. If you take a moment to visit our about page, you can see pictures and biographies of the educators who are on our faculty. When you read about them, you will see some extraordinary educational credentials. These people are all very passionate about working with young children and they do it very well.
Best Preschool in Coral Gables for Co-Constructed Curriculum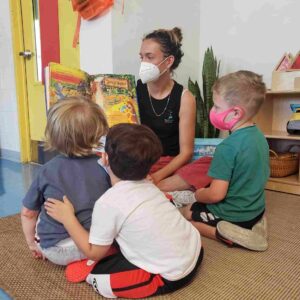 The curriculum of early childhood is supporting the physical, cognitive, and social-emotional growth of each child and is something that you should definitely look into when you are thinking about sending your child to a preschool. We have embraced the Reggio Emilia approach to early childhood education. It was developed by a psychologist and teacher in Italy after World War II, and this very effective method is still widely utilized all over the world. The idea is to provide children with many different ways to express themselves, and learning is constructed through interactions between the teacher and the students.
Positive Relationships With Parents
The final facet that we will look at here with regard to the high quality of our preschool is the commitment that we make to the total family experience. We are well aware of the fact that it can be difficult for parents to send their children to a preschool, and it can be scary for children as well at first.
All of our staff members are kind, empathetic, and respectful of the feelings of the families that we work with, so you can rest assured that we will build a very positive relationship with you. Our intention is to make the school experience an extension of the home experience.
Contact The Margaux School, the Best Preschool in Coral Gables, FL
If you have any questions about the best preschool in Coral Gables, we can be reached by phone at 305-667-9470. Coral Gables is a vibrant and upscale city located in Miami-Dade County. It is situated just a few miles southwest of downtown Miami, just east of South Miami, making it part of the dynamic South Florida region. Coral Gables is renowned for its picturesque tree-lined streets, elegant architecture, and a thriving community that offers a unique blend of residential, commercial, and cultural amenities. Education holds significant importance in Coral Gables, with numerous prestigious schools and educational institutions found within its borders. The city boasts a variety of options for early childhood education, including preschools that provide a strong foundation for children's learning and development. Finding the best preschool in Coral Gables is important when you want to provide your children with the best advantages possible. To learn more about our school, please contact us today.