Children ages 15 to 24 months crave constant learning and exploring. Their sensorimotor skills are growing each day and require nurturing and encouragement. The teachers and staff at the Margaux Early Childhood School provide opportunities for children in daycare to expand their developmental and social skills in a safe and positive learning environment. Families from Coconut Grove, Coral Gable, Pinecrest, Florida, and the surrounding areas choose the Margaux Early Childhood School because they offer daycare programs Monday through Friday, for half day or full day learning. A three-full day program is also available.
Learning through Play at Daycare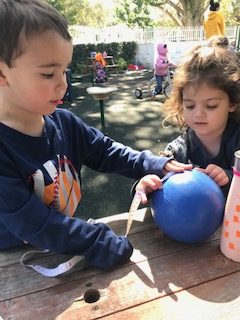 With the help of nurturing teachers, our daycare students' social and emotional development grows each day in the classroom. Through interaction with other classmates, children from South Miami, Coral Gables, Pinecrest, Florida, and the surrounding areas, begin learning appropriate behavior in a social setting, start to become self-aware, and enjoy spending time with other children. In a classroom setting, children become aware of rules and how to follow them, learn to share with classmates, and enjoy encouragement from our highly-trained teachers and staff who love offering social interaction and age appropriate classroom exploration in our weekday daycare programs.
It's More Than Just Daycare
Parents from Coral Gables, Coconut Grove, Pinecrest and South Miami, Florida feel confident when they send their children to our nationally recognized daycare program. Continually offering the highest quality early education programs, the Margaux Early Childhood School has earned accreditation from the National Association for the Education of Young Children.
Our teachers provide a safe, nurturing environment for each child, with the goal of growing their emotional, social, and physical development. Our children explore their classroom, filled with age and size appropriate toys, tables, and chairs, all in inviting colors and textures, to stimulate learning. Children's language and communication skills grow through listening to music, sounds, expression, and through interaction with teachers and other children. Through this daily exercise of cooperating with teachers and classmates, children learn self-expression and self-help skills, which will grow throughout their schooling. Everyone at the Margaux School strives to create an atmosphere of joy, learning through fun, and creating a classroom community. For more information on daycare programs at Margaux Early Childhood school visit www.margauxschool.org or call 305-667-9470.