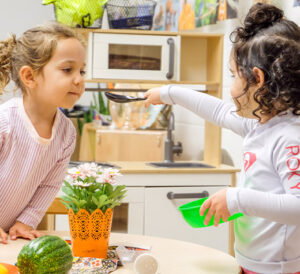 What you're looking for in your search for the best preschool in Coconut Grove, South Miami, Coral Gables, Pinecrest, FL and the surrounding areas, may be completely different from other families are looking for in the best preschool in South Miami. Some families are looking for convenient hours. Others are looking for top-trained teachers. And even others are looking for enrichment programs that will give their young children extra opportunities to learn and grow that would otherwise take away from family time. To help you in your search, let us give you answers to some of the top questions in a search for the best preschool in South Miami.
Best Preschool for available hours. We know this is a must for working parents. After all, work is stressful enough, you don't need the additional stress of a preschool that doesn't fit your schedule. The Margaux School is open 7:30am to 5:30pm.
Best Preschool for student teacher ratios. All parents have concerns that their little ones are in a nurturing environment with plenty of attention. We keep with ratios that are considered the best industry standards – 1:6 for 2-year-olds, 1:8 for 3-year-olds and 1:9 for four-year-olds. However, sometimes other teachers or staff like to visit and the ratio will be even lower! And don't forget to check out our teachers, we're considered one of the best preschools in South Miami with the best teachers.
Best Preschool for language immersion. It is never too early to introduce your child to another language. Some families want to expose their young children to another language, and some want to support an already bilingual environment. Ask us about our Spanish language program.
Best Preschool for enrichment programs. Want to give your child a chance to play soccer, practice yoga or explore cooking but dread the evening and Saturday morning practices? No problem! Come explore our enrichment programs.
Do you have more questions about preschool in Coconut Grove, South Miami, Coral Gables, Pinecrest, FL and the surrounding areas? We look forward to meeting you and can be reached at 305-667-9470. We proudly serve families throughout South Miami, including Coral Gables, Coconut Grove, Pinecrest, FL and surrounding areas.