Sunday, February 4
10:00-11:00 AM
At Books & Books Pinecrest
11297 S Dixie Hwy, Pinecrest, FL 33156

Children love the joy of being read a good book! Join our Early Childhood Director, Mikki Feinberg for a special PJ Library story followed by a hands on activity.
Ms. Mikki will be reading, Avi the Ambulance Goes to School by Claudia Carlson.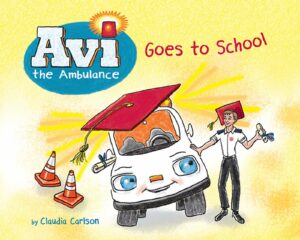 Meet Avi the Ambulance! Avi dreams of being a life-saving ambulance just like his Mom, Dad, and big sister Maya. So what's s a young, ambitious ambulance to do? Go to school of course! Avi learns all sort of important skills from the ambulance teacher at school: How to zig-and-zag, zoom-and-stop, and of course how to treat patients well and drive gently. This first book of the new Avi the Ambulance series will charm young readers, and give them a taste of Israel and the Jewish value of helping others.