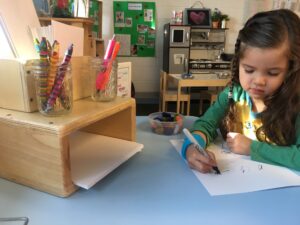 You have reached the ideal website if you are looking for a trustworthy day care center as a Coconut Grove, Pinecrest, Coral Gables, or South Miami parent. Without question, when you are going to be entrusting your child or children to a day care center, you have to be absolutely certain you can rely on the facility on every level.
Since we are part of Temple Judea, we bring a direct spiritual connection to the work that we do. Jewish and non-Jewish families should feel totally comfortable sending their young ones to our day care center. We celebrate all major Jewish holidays along with the Shabbat, and we endeavor to make our preschool an extension of the home lives of our children.
Even though we are informed by Judaic traditions, we have students of all faiths and cultures attending our day care center. Parents of students from other religions often tell us that their children are learning a lot about spirituality and what it means to be a good person at our school, and this is very meaningful to us. Without question, our doors are wide open to everyone, and we treat all students with the same level of love and respect.
Our day care center is open to children who are as young as 18 months old, and we have programs for two-year-olds, three-year-olds, and four to five-year-old children. We endeavor to make the lives of people in our area manageable, and we know that some of our parents have long work hours. As a response, we have an extended day program. Young students can be dropped off at our Coral Gables day care center as early as 7:45 and our regular program starts at 8:30 a.m. The classroom day ends at 3:00 o'clock, but the extended day program goes on until 6 p.m.
Contact The Margaux School at Temple Judea!
If you would like to hear directly about how parents who send their children to our day care center feel about us, we invite you to take a moment to visit our testimonials page. We are sure that what you read will inspire confidence and we would be more than glad to answer your questions and set up a time for you to visit our Coral Gables-Coconut Grove-South Miami day care center. You can get in touch with us by phone right now at 305-667-9470.