Preschool is described as many different things – playgroups, daycare, school, and even "kindergarten prep." But basically, preschool is the first introduction into the school environment and gives children experience and guidance for a successful learning path. But don't worry! Most of what happens in preschool, at least at the Margaux Early Childhood School, is learning through play. We strive to engage our students in stimulating and developmentally-appropriate activities that speak to their social, emotional, moral, cognitive, physical, creative and spiritual selves.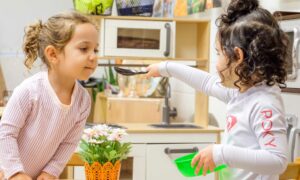 Here are some of the new skills you're little one will be acquiring while at preschool:
Learning different ways to problem solve
Discover the steps in completing tasks
Develop fine motor skills they'll need to hold a pencil
Progress the gross motor skills that help their brains develop
And how do we teach these preschool skills? Through play! Our classroom environment is designed to help little minds explore, use their imagination, and practice new skills.
So what is the right age to start preschool? That depends on your little one's development and your comfort level.
Our Preschool 2's is an excellent introduction to a new environment. Your little one will be set up to learn socialization and independence skills in a small group setting with a low student-to-teacher ratio. A half-day program can give a great change of environment in a comfortable amount of time. The Pre School 3's is the next step and a more extended program. Students in this age group can also participate in enrichment programs or extended care.
Do you have more questions about preschool in Coral Gables, Coconut Grove, Pinecrest, FL, South Miami and surrounding areas.? We look forward to meeting you and can be reached at 305-667-9470. We proudly serve families throughout South Miami, including Coral Gables, Coconut Grove, Pinecrest, FL and surrounding areas.