The Margaux School at Temple Judea is a Coral Gables pre school that has built a reputation as the best pre school in the area. One of the things that sets us apart is the fact that we hold a highly coveted accreditation. The National Association for the Education of Young Children (NAEYC) is widely regarded as the leading organization of its kind in the country. To become accredited by the NAEYC, you must go through an extensive period of self-study and implement a defined quality-improvement process.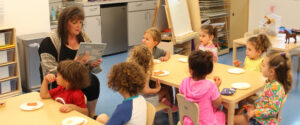 We have a great passion for the work that we do here at our pre school, so everyone on our team took our quest for accreditation very seriously. After we were fully prepared, NAEYC assessors evaluated our facility and our practices, and we were ultimately accredited. Fewer than 10 percent of pre schools, child care centers, and kindergartens have been earned this status.
Our pre school is physically located in Coral Gables. This provides easy access for people that need a pre school near South Miami, Coconut Grove, or Pinecrest.
Strengthening the Community
There are a host of benefits that go along with spending time in a pre school. Some of them are personal to the students, but families and the community at large can also reap the rewards. Children who go to pre schools interact with adults, in addition to their parents, in a nurturing, caring environment. This can make the outside world much less intimidating to a child with little to no experience interacting with adults.
It can be very scary and disorienting for a child to leave home for the first time to go to kindergarten. The transition is usually quite smooth when a child leaves a quality pre school to enter kindergarten.
There are also social and economic benefits for the parents of children who are attending our pre school. We encourage parent participation, and many meaningful friendships are forged among our parents. Of course, when you can rely on a pre school that you trust, you can pursue your career goals. This will certainly have positive economic ramifications for you and your family.
Connect With the Margaux School!
We would be more than glad to answer your questions and show you around our Coral Gables pre school if you would like to take the next step. You can get in touch with us by phone at 305-667-9470, and you can click this link to obtain the email addresses of our administrators.