What age is the right age for pre-school? Many parents have these questions. The answer is that children can successful begin pre-school at any age – as young as 15 months or as old as 4 years old. Many parents choose to start their children once they are 2. When children turn two years old, they begin to gain independence and want to express themselves. At the Margaux Early Childhood School, pre-school children strengthen their awareness of their surroundings and environment. They are growing and learning so many ways to express themselves. Their growth can be seen in their development socially, emotionally, and physically. As they are growing and learning each day, they benefit from being contributing members in the classroom community. Our teachers and staff are there to encourage and support the pre-school students build and expand their community.
Exploring and Learning in Pre School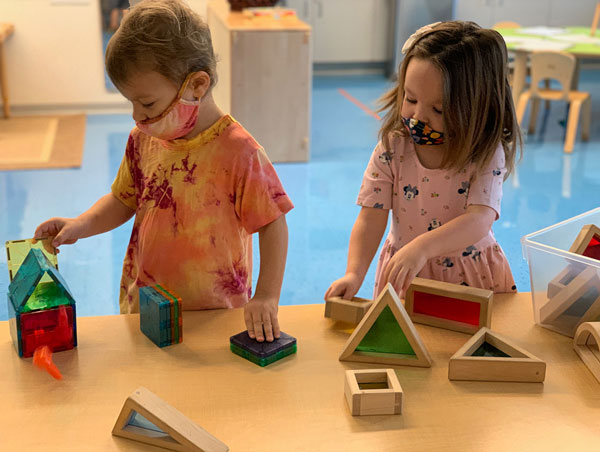 As the children move around and explore their classroom, they will grow and learn. Teachers and staff encourage pre-school children to use all kinds of materials that encourage language, literacy, math, social and physical development. All the spaces in the classroom are thought out and intentionally designed to create an atmosphere for learning and growing relationships among their peers and with their teachers. Curiosity is cultivated through class activities, such as art, reading, dramatic theater, science exploration, and circle time (or morning meeting). All these activities enhance the minds of pre-school children and build their curiosity and the foundation for a lifelong love of learning. Pre-school class for children age 2 to 3 years old have a staff to child ratio of 1 to 6, so teachers and staff are always present.
Pre School for 3 and 4 Year Old Learners
Whether a child has completed the 2- to 3-year-old pre-school class or is new to the school for the 3- to 4-year-old pre-school class, your child will fit right in. The teachers and staff work with each student to support their learning and social-emotional development. They work with the students to help them express themselves by drawing, speaking, painting, dance, blocks, movement and so much more. Each pre-school child grows in their expressive and receptive abilities throughout the year. Students gain independence and competence as well as academic growth and intellectual curiosity. Teachers respond to the interests of the children and use these passions to propel growth and learning. For more information on pre school classes, visit www.margauxschool.org or call 305-667-9470.