If you looking for child care in Coconut Grove, South Miami, Coral Gables, or Pinecrest, FL, the safety of your little one is going to be a major source of concern. This is fully understandable, and we have designed our school to be able to provide a totally safe, secure, and comfortable experience. This is true for the children, and we also put their parents at ease. Let's look at some of the ways that we go the extra mile to provide completely safe child care.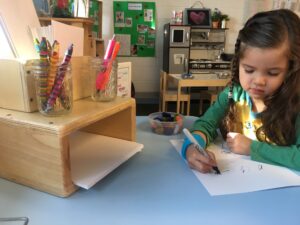 Teacher to Child Ratio
One of the most important things to look for when you are evaluating the safety of a child care center in the South Miami-Coconut Grove area is the number of students who are assigned to each teacher. Clearly, it is very difficult to monitor all activities if you are overwhelmed by a huge class. We are proud to be able to say that we go to great lengths to provide an extreme level of attention.
Our staff to student ratio is between 1:5 and 1:10 depending on the age group. There is a variance because the younger children need more focused attention. By the time they are four or five, they are learning a great deal, and the experience is akin to that of a school. An elementary school with a 1:10 ratio would be hard to find! We follow the ratios recommended by the National Association for the Education of Young Children (NAEYC) and these are significantly lower than the ratios mandated by the Department of Children and Families for all licensed child care centers.
Coral Gables Police Department Presence
Any time there are children on our campus there is also a Coral Gables police officer. The officers who protect our campus are intimately familiar with our families and our facility. In addition our Executive Director is connected with many law enforcement agencies serving this community. This ensures that we are made aware of any potentially dangerous situation.
Dedicated Staff Members
In order to ensure child safety and development, you must have appropriate professionals on your staff. All of our teachers are highly educated, and they are very passionate when it comes to child care. They take ownership and they would do anything to keep our children safe.
Play Areas, Toys, and Supplies
We take a measured, intelligent approach when it comes to the way that our play areas are designed. They are created with safety in mind first and foremost, and we also make sure that our toys and other supplies do not present any hazards.
Smoke Alarms and Fire Extinguishers
The safety and security of our child care facility itself is another thing that we take into consideration. We monitor entries and exits, our fire extinguishers are easily accessible, and our smoke alarms are always in perfect working order. We conduct regular drills to ensure that our entire team is ready to act in an emergency situation.
Contact The Margaux School Today!
If you would like to reach out to the safest child care center in Coral Gables, we can be reached by phone right now at 305-667-9470.