Children who are ages 15 – 24 months learn by interacting with others. For this reason, parents from Coral Gables, Pinecrest, Coconut Grove, and South Miami look to Margaux Early Childhood School as the place for their child to grow. Children who take part in toddler daycare learn, each day, through social interactions. Our kind and caring teachers have created environments, both in the classroom and outside, where the children can discover new things about their competence and that of the other children in their class. As children discover the world around them, new connections are formed and strengthened within their growing brains. Our toddler daycare classrooms are carefully created to provide invitations for children to explore and discover – using all of their senses. 
Language Blossoms in Toddler Daycare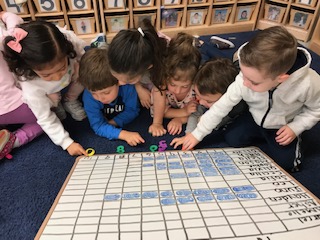 Our teachers understand that creating an atmosphere for toddlers to express themselves is the key to having them open-up while their language skills are emerging. As the toddler's pick-up and study an item, our loving teachers provide a language-rich environment that helps the children connect abstract words to the concrete things in their hands. This is a wonderful way for toddlers from Coral Gables, Pinecrest, Coconut Grove, South Miami, and the surrounding areas, to expand their vocabulary through interactions with their environment. Learning to express their needs is key and the teachers work with students to help them express what they are trying to say or do. In toddler daycare, the teachers use songs, rhymes, and games to further the development of children's communication skills. The toddlers' growing competence is apparent as they become more comfortable expressing their wants and needs and completing more and more tasks on their own. 
Toddler Daycare Classes
When you and your child are ready for toddler daycare, there are a few options for classes. The 5 days a week classes can either be full day, from 8:30 a.m. until 3 p.m., or half day classes, which run from 8:30 a.m. until 11:45 a.m. There is one teacher for every 4 toddlers in the class. Students do not have to be potty trained to be a part of this class. Toddler daycare is a wonderful start to a child's education. They will grow through stimulating interactions with their classmates, teachers, and their surroundings. Toddler daycare offers a world of learning, which the student will carry with them through their school years and the rest of their lives. Parents from Coral Gables, Pinecrest, Coconut Grove, and South Miami who would like more information about toddler daycare, call 305-667-9470.