It's important for toddlers ages 15 to 24 months to explore their surroundings. This exploration is really constant learning. There's only so much they can do at home.  At home, they are often alone or with their siblings in a positive environment, but is that environment encouraging social and emotional growth daily? Families in South Miami, Coconut Grove, and Coral Gables understand that to encourage daily learning through social interaction, toddlers need to be in an interactive, safe, and nurturing environment that the Margaux Early Childhood School provides. Having earned national accreditation from the National Association for the Education of Young Children (NAEYC), our school provides care and education to children from 15 months to 5 years old. Starting with toddler daycare is an important step in a child's development. Social interaction is the root of relationships and when properly nourished, children grow to form healthy relationships with family and friends.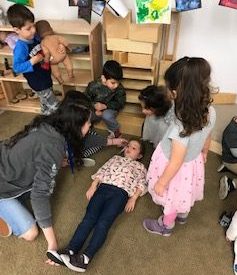 Preschool Playgroups and Social Development
Toddler daycare isn't just a babysitting service. At Margaux school, we always encourage learning, even with our youngest students. Toddlers are just learning to form words and associate them with the corresponding objects. Our classrooms and outdoor play areas are bright and feature toys of all shapes, sizes, and texture to encourage this learning. Toddlers from South Miami, Coral Gables, and Pinecrest, FL are taught expression through music, sounds, and language. This playtime teaching technique is encouraged daily by teachers and staff. Toddlers who don't participate in toddler daycare are missing out on the important foundational blocks of socialization and emotional exploration afforded to those in a playgroup program.
Full time and Part Time Toddler Daycare in Coral Gables
If your toddler is new to toddler daycare and playgroups, we offer half-day programs to ease them into a routine and full day for those who want or need more time. Toddlers and school-age children often do better when they are introduced to routine at such an early age. Organization and responsibility become a way of life when encouraged from toddler years. The simple act of picking up a toy and putting it away encourages learning, responsibility, and accomplishment. Followed by positive acknowledgment, smiling faces, clapping hands and words of congratulations by teachers and staff reinforces the child's actions. At the Margaux Early Childhood School, our teachers are highly trained to offer the most comprehensive teaching environments where toddlers want to spend time each day. Daily drop off will be a breeze, at least for your child.
For more information on preschool programs offered at the Margaux School for Coral Gables, Coconut Grove, South Miami, and Pinecrest, FL families, please visit, www.margauxschool.org or call (305) 667-9470.