Parents looking for a caring, nurturing daycare in Coral Gables, Pinecrest, Coconut Grove, and South Miami should call the Margaux Early Childhood School. Our toddler daycare is designed to help children grow through social interactions with their peers and teachers. Social and emotional development is a main goal for this age group. This is supported by caring teachers, who will work with the children to enable self-expression. This age is when toddlers begin to explore the world around them and are guided by nurturing teachers, who will help them learn about themselves and others. Our children learn both in the classroom and outdoors, with other students, through teacher supervision and interaction.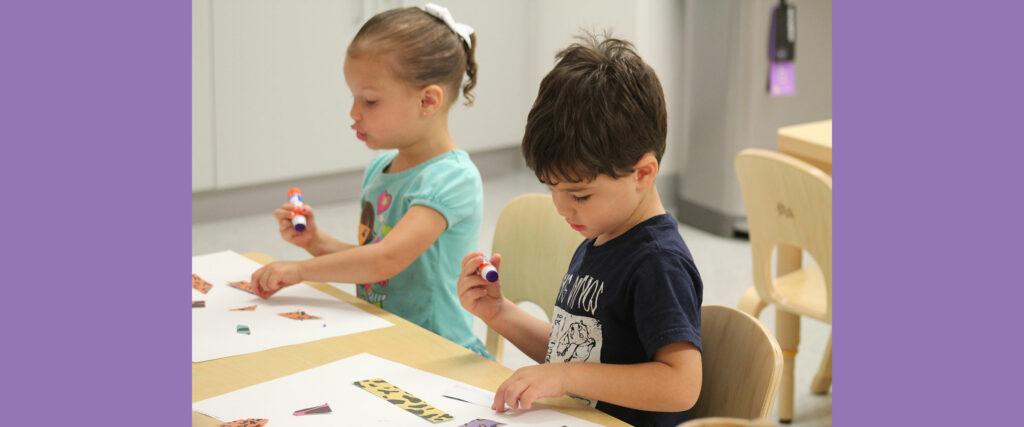 Learning and Development for Daycare Students
Each of our daycare classrooms provides a nurturing and secure space for children to learn about their environment, their fellow students, and their caring teachers. Our goal is to promote learning and development using materials which support sensory-motor development. We provide manipulatives and materials of different sizes, shapes, colors, sound, texture, and smell in our everyday learning. Daycare students can play with these toys and objects, each day, and build skills that lead to responsibility and sharing – two important social skills. Each day is an adventure, where learning is exciting and new. Our teachers look forward to seeing our daycare students each day, and are excited to share new learning, language, and experiences with them.
Daycare Children Look Forward to Learning
Our daycare students love to come to the Margaux Early Childhood School because each day is filled with fun and exciting new ways to learn. Our daycare children don't even realize they are learning, as they play, talk, and interact with this a dynamic environment and nurturing teachers. Our teachers are excited to work with daycare students and support their language skill development. As children are beginning to use words to ask for items and express themselves, our teachers create additional ways for their new-found skills to be used, reinforced, and celebrated. Teachers work closely with each student to provide the tool necessary to express themselves. Our program uses language, music, and sounds to further engage children and continue to develop their communication skills. We offer a five-day program from 8:30 a.m. to 3:00 p.m. or 8:30 a.m. – 11:45 a.m. or a three-day program from 8:30 a.m. to 3 p.m. Our daycare classrooms have a staff to student ratio of 1:5. For more information about our daycare program, please call us at 305-667-9470.